From all of us here in SAND, we welcome YOU!! We strive to be an encouraging community of dietetics majors who push each other to be the best professionals we can be. Our desire as a group is to help you be as prepared as possible for your dietetics career path by learning from our experience, our mistakes, and our successes.

We look forward to what the 2018-19 year looks like, and we hope you'll join us as we strive to make this the best year of SAND yet!
---
President: Maggie Herin


​Maggie Herin is the President of SAND for the 2018-2019 school year. She is a senior at the University of Memphis majoring in Dietetics. She is passionate about nutrition, cooking, and healthy eating. As the president of SAND, she runs the meetings, represents the organization, and oversees most activities performed by SAND. Outside of her school life, she loves to hike with her dog Duke, travel, cook, and watch Netflix.
Contact information: mcherin@memphis.edu​
---
Vice President: Lauren Fischer


Hello everyone! My name is Lauren Fischer and I am the Vice President of SAND. I am originally from South Africa, but I have lived in Memphis, TN for the past 14 years. Before joining the Dietetics program, I received my culinary degree. I am now a senior in the Dietetics program at the University of Memphis. When I am not busy in school I enjoy baking and cooking, painting and going to Shelby Farms.
Contact information: lmstffr1@memphis.edu
---
Secretary: Kathy Munoz


​I'm Kathy Muñoz. I am a Senior at the University of Memphis and I am majoring in Dietetics. I absolutely adore this major and all of the experiences and opportunities that has come with it. I have been an active member in S.A.N.D for three years now and I think it is a great way to reach out and make some relationships. I am excited to be an officer again this year and I cannot wait to ring out the last year with some unforgettable memories!
Contact information: kmmunoz@memphis.edu
---
Treasurer: Jayne Simmers


​Hey y'all! My name is Jayne Simmers. I am a senior here at the University of Memphis studying Nutrition and Dietetics. I am also the SAND Treasurer for the 2018-2019 school year. I cannot wait to get to know y'all. If you have any questions come ask or shoot me an email. This year is going to be great!
Contact information: jsmmers1@memphis.edu
---
Volunteer Coordinator: Hannah Reynolds


​Hello! I am the S.A.N.D. volunteer coordinator. I am an upcoming senior who holds a strong passion for helping others, especially through nutritional needs. This is my second year at the University of Memphis. I enjoy working out, volunteering, and spending time with my friends in my spare time. On top of being a full-time student, I also have a part time job at Babalu where I work as a hostess.
My love for science and food is what brought me into the dietetic field of study. The combination of the two subjects in one major is what makes this field so interesting to me. I plan to graduate spring 2019 and obtain a dietetic internship in Memphis. For volunteer opportunities, please contact me. Go Tigers!
Contact information: ​hbrynlds@memphis.edu
---
Public Relations: Austin Kirk


My name is Austin Kirk, I am currently a Junior studying Dietetics. I have been a member of SAND since attending the University of Memphis in the Fall of 2016. I have been the public relations officer for SAND since the Fall 2017 semester. Since becoming the public relations officer I have participated in the creation of promotional materials for SAND such as brochures as well as flyers that have been distributed on campus as well as during events. I have approached fellow classmates that are dietetics students who do not know about SAND and educated them on what we do and why it is beneficial to
join and participate in SAND activities.
Contact Information: alkirk@memphis.edu
---
Student Liasions:
Ashley Payne


My name is Ashley Payne and I am the 2018-2019 Student liaison for SAND. This will be my senior year in the DPD program at the University of Memphis. I have been involved with SAND all four years. I am an experiential learner at St. Jude Children's Research Hospital in the Dietetics department. Some of my favorite things include being outdoors, running, reading, learning about Nutrition, cuddling with puppies and playing with kiddos.
Contact information: atpayne1@memphis.edu
---
Hailey Estes


My name is Hailey Estes and I am one of the 2018-2019 Liaisons. I am a Senior at the University of Memphis and I am excited about learning more about my field this year. Outside of school and studying, I work at a gym, hang out with friends and family, I love to cook/bake, and watch Netflix. I am passionate about helping others and cannot wait to help people make healthier life choices.
Contact information: hdestes@memphis.edu


---
WebMaster: Ashlyn Redmond
​
​
​I am Ashlyn Redmond, the WebMaster for our 2018-2019 year! I am currently in my sophomore year at the University of Memphis, excited to learn more about the field of dietetics.
I first learned about dietetics at a University of Memphis open house for high school seniors. After I researched what dietetics was all about, I realized I could help people's health through the foods they eat.
I stay busy throughout the school year as I find time to study, be with friends around campus, and volunteer in my city. I love to watercolor and garden!
Contact information: ashlyn.redmond@memphis.edu
Powered by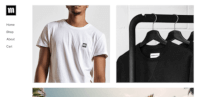 Create your own unique website with customizable templates.